Labora's Maker: Perpetuum mobile with Anatoli Ljutjuk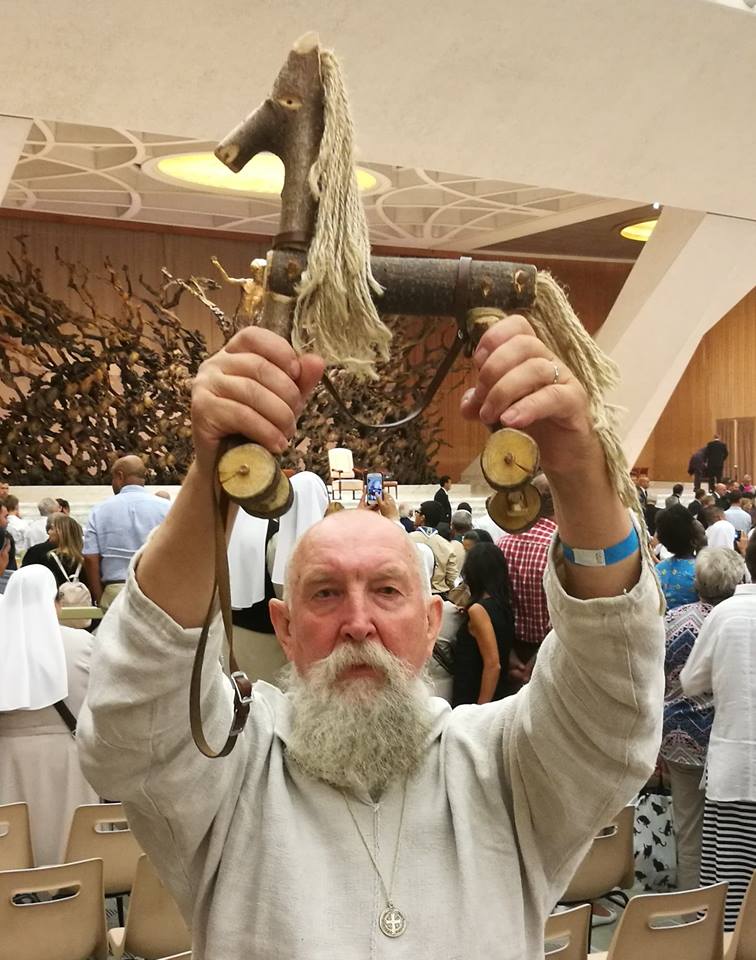 Labora's Maker: Perpetuum mobile with Anatoli Ljutjuk
A former U.S. Ambassador's wife used to describe Anatoli as "Estonia's Leonardo da Vinci." She may have been on to something as Anatoli is an artist and an engineer, a creator and an inventor, a story teller and a builder of structures – both physical and virtual. He is a true Renaissance man working in the very heart of Tallinn's medieval Old Town. But, most importantly of all, Anatoli is a profoundly religious person who has devoted his life to praying for Estonia's flora and fauna while bringing others closer to God.
It's too bad the word friar has fallen out of use as it might be the most appropriate way to describe Anatoli as he lives in service to his God, his Ukrainian diaspora community, and his adopted Estonian society after having taken vows of poverty, chastity, and obedience in keeping with the Rule of St. Benedict. To be exact, Anatoli is a Benedictine oblate – also known as a Third Order Secular – affiliated with the Hylland Cistercian Monastery near Hovin in Norway's Telemark region where he came close to taking the vows that would have made him a full monk – or a First Order Religious. This remote Trappist hermitage of just three monks might better be described by another almost forgotten word – skete.
Although he doesn't live at his skete, Anatoli's daily life is still governed by the Cistercian Code (carta caritatis) which emphasizes living a simple life of work, love, prayer, and self-denial as well as by the Benedictine motto of ora, lege, et labora upon which it is based. And so, Anatoli starts each day with prayers (ora) for Estonia and for all of God's creatures who live here as he visits with each icon dedicated to those Christian saints whose lives are interconnected with nature. Each of Anatoli's days ends with more prayer – as well as a time for reading (lege) – since he strives to learn something new each day. In between his two major daily prayers, Anatoli works (labora). And Anatoli's work has not gone unnoticed. Indeed, it has been recognized by two different governments.
Originally from a small town known once again as Velikiy Birky in the western Ukrainian province of Ternopil', the country where he was born awarded Anatoli with the title of Honored Artist of Ukraine for his outstanding achievement in the arts. His adopted country gave him the Order of the White Star for his services to Estonia where he is recognized as a protector of Estonian national heritage. Given his nature and chosen calling, however, Anatoli never talks much about his various awards and honors so there is no need to list all the others. After all, to paraphrase Proverbs, "pride goeth before a fall."
Anatoli seems to have found that the best way to avoid the temptations presented by the Seven Deadly Sins is to strive for the Seven Heavenly Virtues. Anatoli prefers, therefore, to focus on the positive in everyone and everything. And he always makes sure to end each day on a positive note or with a positive thought. Not only does Anatoli think positively, he acts positively. For example, he conceived of the Book of Good after coming across stories of goodness during a time of war. The inspiration came to him as he organized aid for eastern Ukraine together with his sons Bogdan and Nestor as part of their ongoing campaign Ukraina Heaks supported by the Estonian Ministry of Foreign Affairs and the Estonian Ministry of Defense.
Those wishing to discover a possible flaw in Anatoli's character would have to go back to ancient Greece where their pre-Christian philosophers valued moderation above all other things and where the very Temple of Apollo at Delphi bore the inscription "Nothing in excess" (μηδὲν ἄγαν). While Anatoli is moderate in almost all things, he perpetually generates an excessive number of new ideas. Despite his daily attempts to conduct a "control of ideas," sometimes it seems as if Anatoli has never met a new constructive idea that he didn't love. And while twenty ideas are often better than just one, when these twenty new ideas become twenty new projects then his friends are often unable to keep up. Mesmerized by all these new ideas, Anatoli sometimes fails to focus on some of the details of the "real" world where the rest of us live. Like so many great creative artists, Anatoli lives in a better world he has built inside his head and inside his heart. After all, if he can imagine it – and then believe in it – then he can make it real.
While it would likely prove impossible to track Anatoli's endless creativity back to its source – it's the way God made him, there are elements in his biography which might provide some hints. Growing up in his small town, Anatoli knew he wanted to go out into the bigger world and so he did something as a teenager that few of his peers would have even imagined – he travelled the Soviet Union alone ending up in Kronstadt. Eventually conscripted into the Soviet Army, Anatoli served near Novgorod while deciding what to do next with his life. From there, Anatoli made his way to Vyzhnytsia in the Chernivtsi region of western Ukraine in the late 1960s to study woodworking and other crafts at the very Soviet sounding State Art-Industrial School. These days, the school has a much more attractive name: The College of Applied Arts. The school, which has trained several of Ukraine's leading craftsmen and artists, was founded during the lifetime of one of Ukraine's greatest woodcarvers – Vasil Shkriblyak – and is named in his honor. Anatoli graduated from the school as a journeyman woodworker in 1969 with a specific interest in wooden toys.
After working for a time in Ukraine, Anatoli arrived in Tallinn in the early 1970s to study at the Tallinn Art Institute (now better known as the Estonian Academy of the Arts) where he graduated in 1975. He has been a resident of Tallinn ever since. While his official reason for studying at the Art Institute was that it was the only place in the Soviet Union where he could complete the design program he wanted, he also had another reason: Tallinn was on the coast and near to Scandinavian shores. Anatoli harbored secret dreams of fleeing to the West …. Fortunately, the West would eventually come to him when Estonia regained its rightful independence in 1991. Anatoli played his part, leading Estonia's chapter of the Ukrainian Rukh Movement, fighting for both Ukraine and Estonia's independence from the Soviet Union.
As one of the main activists of Tallinn's Ukrainian community, Anatoli founded Tallinn's Ukrainian Greek Catholic Community in 1991 and then set about to build its church. While Anatoli first noticed the promise of religion as a child, his real religious journey began back in Vyzhnitsya where he encountered his first underground priests. Everything then fell into place during the time he spent with Elder Robert at the Hylland Cistercian Skete where Anatoli still returns at least once a year. Religion has given Anatoli his moral compass and has proved to be the driving force in his life ever since.
Wanting to find the best way to integrate his Ukrainian community into broader Estonian society, Anatoli founded the Ukrainian Cultural Center in 2002 as a non-governmental organization open to people of all faiths and cultures. Demonstrating Anatoli's commitment to the integration process, the Center soon became a vital way for Estonians and Ukrainians to learn more about one another's cultures. Given Anatoli's focus on nature conservation, the Center's mission soon expanded from just preserving endangered cultures to protecting endangered species as well – especially those here in Estonia.
With the dream of founding a monastery in Tallinn, Anatoli went in search of a medieval craft that might provide work (labora) for future monks and soon realized that the traditional skill of making paper by hand had long since vanished from the city. And so, Anatoli reintroduced the craft of papermaking to Tallinn in 2005 – before going on to adding calligraphy, printmaking, and bookmaking workshops to the new handmade paper mill to finish off this new monastic scriptorium. These workshops have since been reorganized as Labora and are now under the daily direction of Anatoli's son Nestor. Over the years, Labora has produced some amazing books including the Poetics of Endangered Species: Estonia. As he continued to wait on the arrival of the monks, Anatoli also launched a secular School of Monastic Crafts ten years ago to teach young people all those crafts in danger of disappearing or being forgotten.
Now, as always, Anatoli is at his most joyful when he is teaching young people how to do something with their hands – especially how to make his beloved wooden toys. Whether they attend his regular Saturday School or are just visiting the Center for the day, Anatoli loves telling the children stories while operating one of his Mechanical Morality Theaters – his form of interactive catechism. And if the children are good – and they almost always are when they get a chance to learn something new from Anatoli, then he will prepare his signature Ukrainian dish of oven-roasted potatoes for their lunch.
Of course, anyone who has ever visited Laboratooriumi 22 knows that Anatoli's magnum opus is the Church of the Virgin with Three Hands – a beautiful aesthetic fusion combining inspiration from his native Ukraine and his adopted Estonia. Ask anyone whose hands helped build this Slavic-Nordic church and all of them would say that the true reason they agreed to help was because Anatoli asked them – and because they wanted to become a part of Anatoli's greatest sacred creation. So, while Anatoli loves to give credit to just about everyone but himself – and indeed he could not have done it alone, the simple truth of the matter is that without Anatoli as the driving perpetuum mobile at its heart, then Tallinn's beautiful Church of The Virgin with the Three Hands would simply not exist. And that would be a real shame.