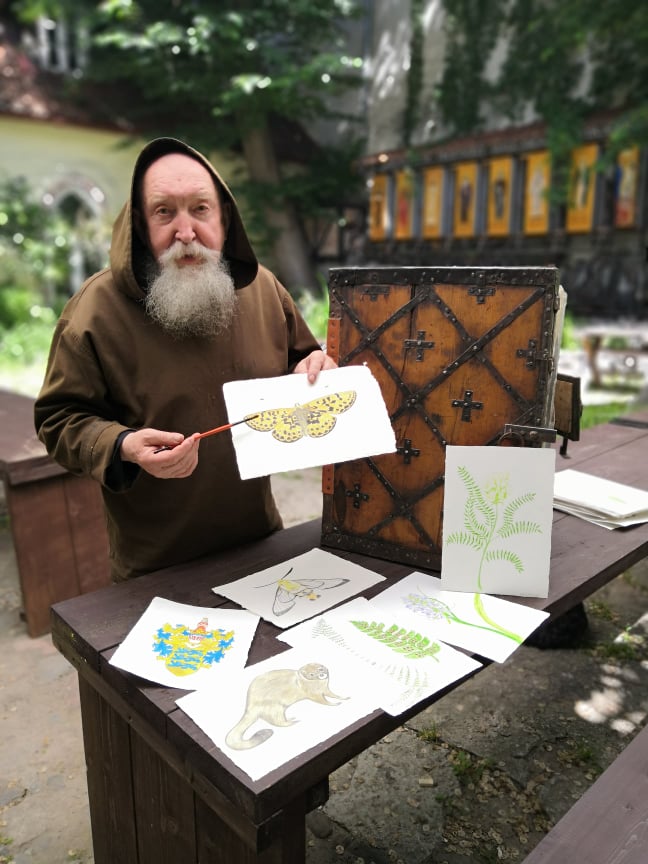 Song of the Virgin Mary

At the Ukrainian Cultural Centre in Tallinn, there is a multi-part project under completion, dedicated to the Virgin Mary, to Terra Mariana, and to Estonian nature. The result of the project is the birth of the handicraft book "Song of the Virgin Mary".

The curator and inspiration of the project is Anatoli Ljutjuk, the Ukrainian Cultural Centre's founder. The project's manager is the UKK's curator of literature projects, Katja Novak. Our partners are The Estonia Writers' Union and Tallinna Meistrid OÜ.

Our sponsor:     


There are many synonyms for the Virgin Mary, but one of them is Mother Earth, which is very characteristic of Estonia folk culture. In our project, we aim to deepen the perceptions that Estonians and Ukrainians living in Estonia have of the country in which we live. We are hoping that a great number of people are to be involved in this project – nice, interesting and interested people – whose participation and contribution to this project will see it progress and grow larger.

The main goal is to give Estonians the opportunity to preserve their thoughts and stories about their country, their experiences of Estonian nature and their imagination of Terra Mariana. All written stories are kept in the scriptorium of the chapel. Many of these stories are recorded in the large handicraft book "Song of The Virgin Mary", which is a work of art and the result of our creative work.

As a prayer for Estonian nature is heard on a daily basis in our centre, the goal has developed over the years to pay more attention to nature, to ways in which it is threatened, and to guide people to be considerate of such concerns. And the best ways to meet this goal is through personal experience and through art. At the Ukrainian Cultural Centre, we believe that every work of art is in it's own way a prayer. With this project we ask participants to describe your experience of being with nature by creating texts and/or drawings. It is important to give an opportunity for both children / young people and to adults, to tell their story about a plant close to the soul, or a tree, bog, spring, animal or insect, that we may ask the Virgin Mary to protect. In this way, we give a voice to those whose voice cannot be understood in human language and we guide people to be more observant of their surroundings.

We welcome all people to take part in the project: those who consider themselves believers and those who do not. This leads us to our next goal, which is to bring together people from different faiths as well as non-believers, for one clear and honourable activity, which is the preservation of Estonian folk culture and nature through.

Our target group is children and young people of Estonia and Ukraine, as well as those of other nationalities, who are interested in the nature of Terra Mariana. We invite them to come visit us at the Ukrainian Cultural Center accompanied by parents and carers, which in turn promotes positive relationships and the passing on of life wisdom from generation to generation.

To help the project participants delve deeper into the topic, we will organise literature and illustration workshops as well as lectures on nature. Through the workshops, we select the texts and illustrations that make up the content of the book "Song of the Virgin Mary". We will also introduce the participants to literature on nature and on Terra Mariana, as well as to our centre's daily work in the preservation of traditional techniques. We invite children and young people from all 15 counties to participate in the above-mentioned workshops, striving for a diverse range of experiences to be recorded in the book "The Song of the Virgin Mary", by gathering different perceptions of nature and addressing county-specific natural issues. We believe that with the help of our project, the connection with nature will be strengthened not only for Estonians but also for Ukrainians and other peoples living here, who have been received by Terra Mariana. We believe that everyone should, in whichever way is right for them, pray for the welfare of the land in which they live. Our wish is that during the workshops people will gain more knowledge about Terra Mariana and respect towards our country will be increased.
In conclusion, Songs of the Virgin Mary is both a companion to Terra Mariana and can be seen as a bridge between humans and non-human nature. Although the project focuses on Ukrainians and Estonians, we welcome all other peoples and communities to take part in the project.

What our project consists of:

1 Workshops for children, young people and their parents, in calligraphy, literature and the art of illustration.

1.2 Lectures on Estonian nature, its historical development and the issues it faces.

2 The book "Song of the Virgin Mary", in which is compiled:

– drawings made by Estonian schoolchildren and stories about their favorite members of Estonian nature, of those for whom they care, and those they want to protect.

– literary heritage of Estonian poetry, prose and drama, written by both contemporary and classical authors.

Poetry and prose texts are compiled in co-operation with the Estonian Writers' Union. The book is to include the texts of both living writers and those who are no longer with us. The book is entirely handmade, meaning only one copy exists.

Ultimately, the "Song of the Virgin Mary" appears as a book made by the public, spanning several eras, and containing a range of texts dedicated to a single theme, that merge into a single prayer or letter of thanks for our Terra Mariana.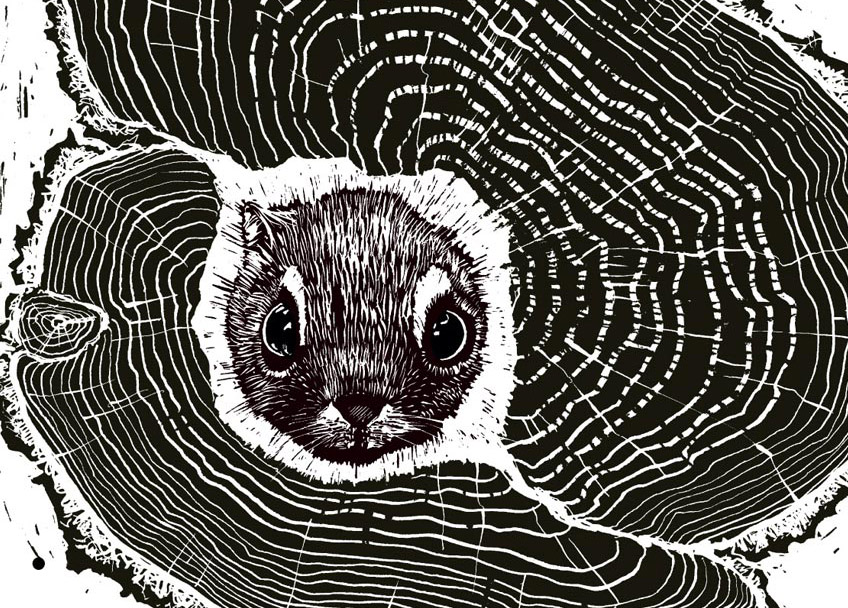 Our Poetics of Endangered Species
Each of the books in our series known as the Poetics of Endangered Species is a collection of poems and illustrations about the threatened flora and fauna of a specific country. After our resident illustrator and calligrapher have both done their jobs, our printer then prints our original books on handmade paper made in our Labora Workshops before our bookbinder finally binds everything together by hand.
We launched our creative endeavor with the publication of our first two handmade books known as the Poetics of Endangered Species: Estonia (with poems by Timo Maran and illustrations by Nestor Ljutjuk) and the Poetics of Endangered Species: Ukraine (with poems by various authors and illustrations by Nestor Ljutjuk). We then produced facsimile editions of both these books to achieve wider distribution. We would like to thank Eesti Kultuurkapital for their support in publishing the Estonian edition and the Ukraine 3000 International Charitable Foundation for their support in publishing the Ukrainian edition. You can read about our current project to prepare a new edition of the Poetics of Endangered Species: Estonia with the help of the Hooandja crowdfunding platform here.
If you might be interested in joining our ongoing work on the Poetics of Endangered Species series, then please read more about our requirements here. Thanks!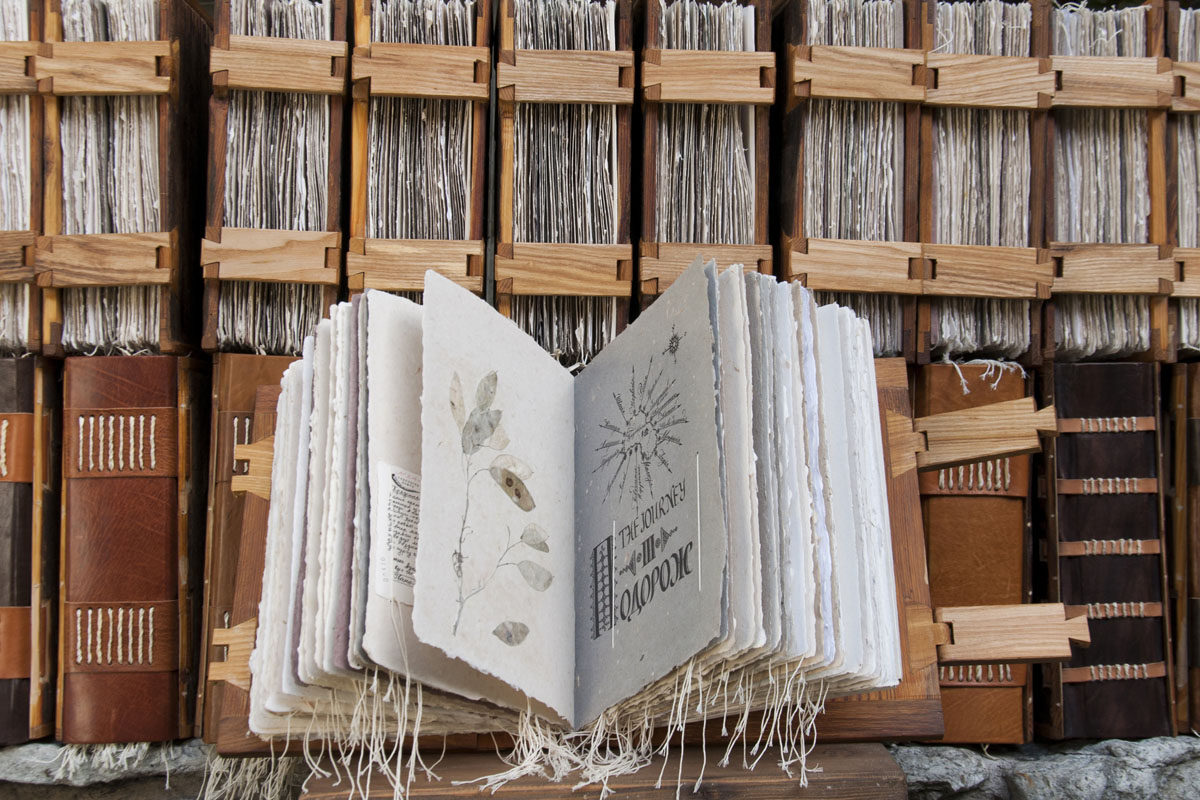 Our Ark of Unique Cultures
Our collective challenge for the Ark of Unique Cultures was to see if there might be some way to distill the very essence of an entire people into a single handmade book. Thanks to Mariya Korpanyuk's inspired cycle of poems about the Hutsuls, we think our first ark in this series might have accomplished exactly that. When you add her poems together with Anatoli Ljutjuk's impressive illustrations, all the fascinating historical photos uncovered by our partners at the National Museum of Hutsulshchyna, as well as the direct input from hundreds of Hutsuls from across the Carpathian Mountains, we believe our book helps to explain what makes the Hutsuls and their culture so unique.
With the generous support of former Ivano-Frankivsk Governor Mykhailo Vyshyvaniuk, we were able to make thirty handmade copies of the book on our handmade paper and then give them to thirty of the world's most important libraries. You can browse through a digitized version of the National Library of Estonia's copy online if you are curious to see how our book turned out. We hope our book will help keep the unique traditions of the Hutsuls alive for many generations to come.
If you like what you see, please let us know! We are looking for new sponsors to help us produce a facsimile edition so that others might get the chance to hold this unique book in their hands and enjoy Mariya's amazing poems about the Hutsuls.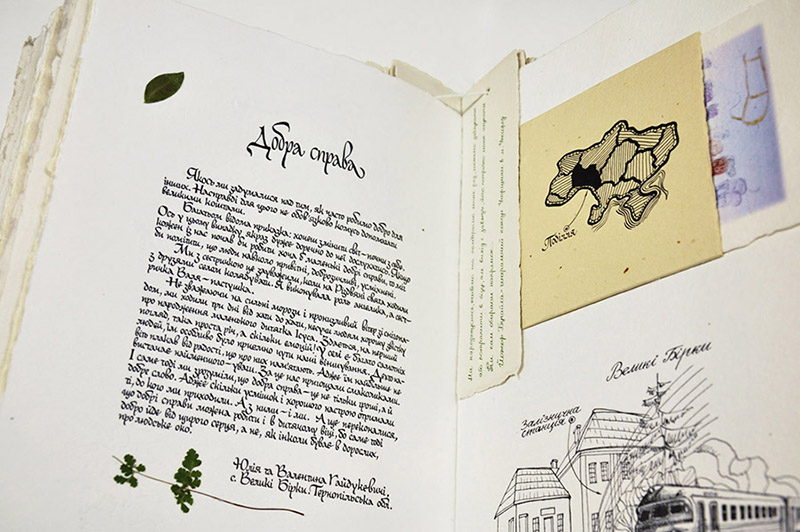 Our Book of Good
To keep traditional crafts alive, the Ukrainian Cultural Center has devoted itself to creating books by hand. So please allow us to give you a special behind-the-scenes visual tour of how we made the Book of Good. And, just in case you were wondering, the Book is a collection of stories about goodness during a time of war.
Creating the Book from start to finish was a long and intensive process which fused ancient craftsmanship with the best of the modern world. In our Labora Workshops, we combined our traditional skills of papermaking, calligraphy, and bookbinding so that they would work together hand-in-hand with the latest modern tools from powerful editing software to photopolymer printing plates.
But enough of words. As the oft-repeated proverb goes, a picture is worth a thousand of them. Follow our creative process by clicking on the images that you will find here to watch as the Book of Good comes into existence. You can also take a closer look at the finished book by clicking here. We would like to thank the Ukrainian Pure Heart Foundation for supporting the publication of this book.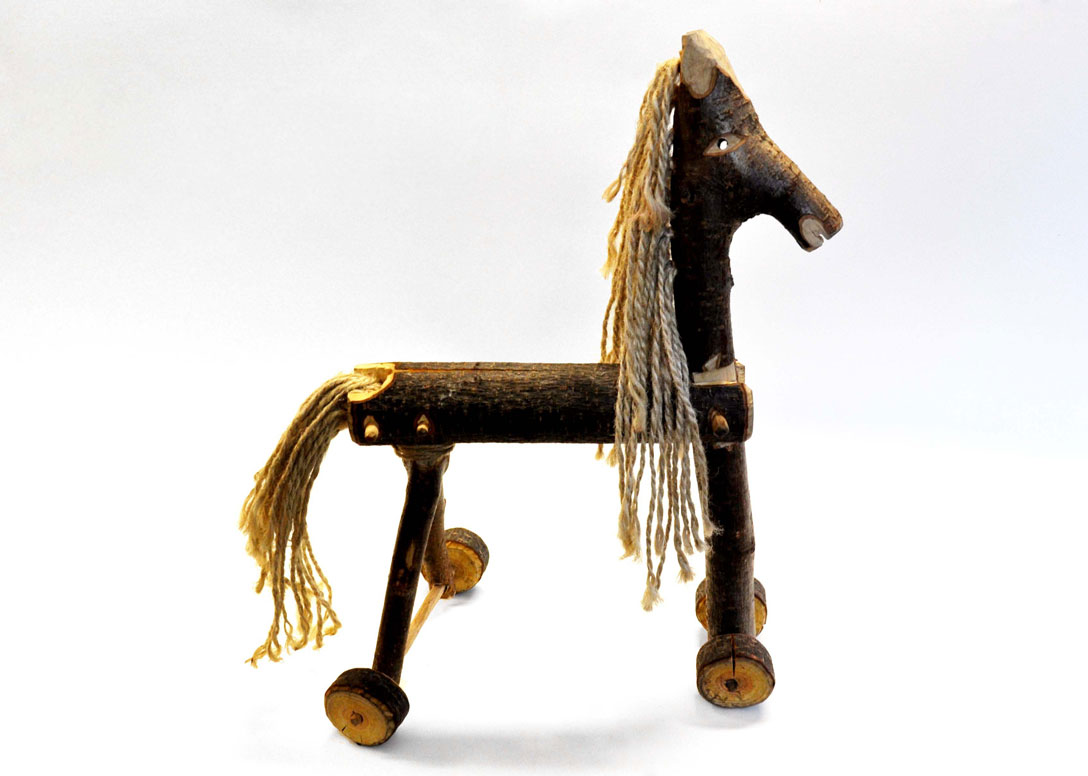 Our Museum of the Wooden Horse
No one quite remembers how the first wooden horse found its way to the Ukrainian Cultural Center. Perhaps Anatoli himself made it from various branches of wood. In any case, a second horse and then a third one soon followed. After that, our friends got it into their heads that the Center was working on something new and so people from all over this part of the world started bringing us horses until we had a large wooden herd. And then there was that crazy itinerant wooden horse collector who gave our Center his entire collection – or at least most of it.
What then should we do with all these wooden horses? Yes, the wooden horses turned out be just the thing that our Center needed when we were running our integration projects – especially those built around the making of wooden toys. And yet, most of the wooden horses still sat around in boxes or gathered dust on shelves. Everything changed one day when a Wooden Horse Whisperer visited the Center and decided to tame this wild herd and bring some order to this wooden chaos. You can see her impressive results here at The Wooden Horse: A Virtual Museum.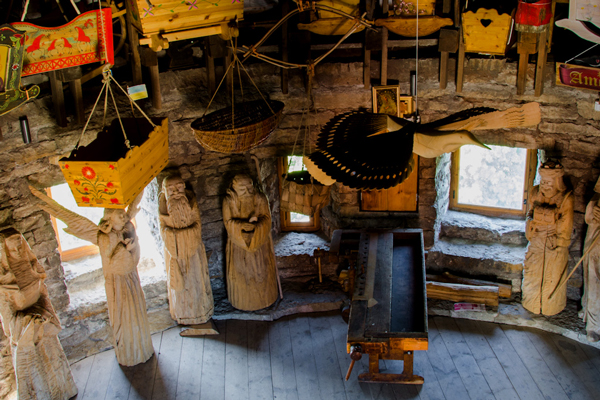 Our Estonian Ark of Endangered Species
Imagine – if you would – an ark designed to save the world's endangered species. Such an ark could not be yet another zoo or botanical garden – especially as this would only reduce the number of those animals and plants which are already under the threat of extinction. Instead, such an ark should capture the true spirit of every creature without adding any further threats to their already shrinking populations and natural habitats.
Tallinn's Ark of Endangered Species is just such an ark. Taking Noah's Ark as our inspiration, we decided to create an alternative ark. We began by collecting pairs of unique wooden toys made by master craftsmen to represent endangered species from around the world. Many of these toys are designed to move and have become an essential part of our mechanical theater. These special toys are now gathered in Our Tower. We hope they will grow in numbers to capture the vanishing beauty of each one of the world's creatures currently under threat.
Thanks to the City of Tallinn for making our Ark of Endangered Species a part of Tallinn's tenure as the European Capital of Culture in 2011.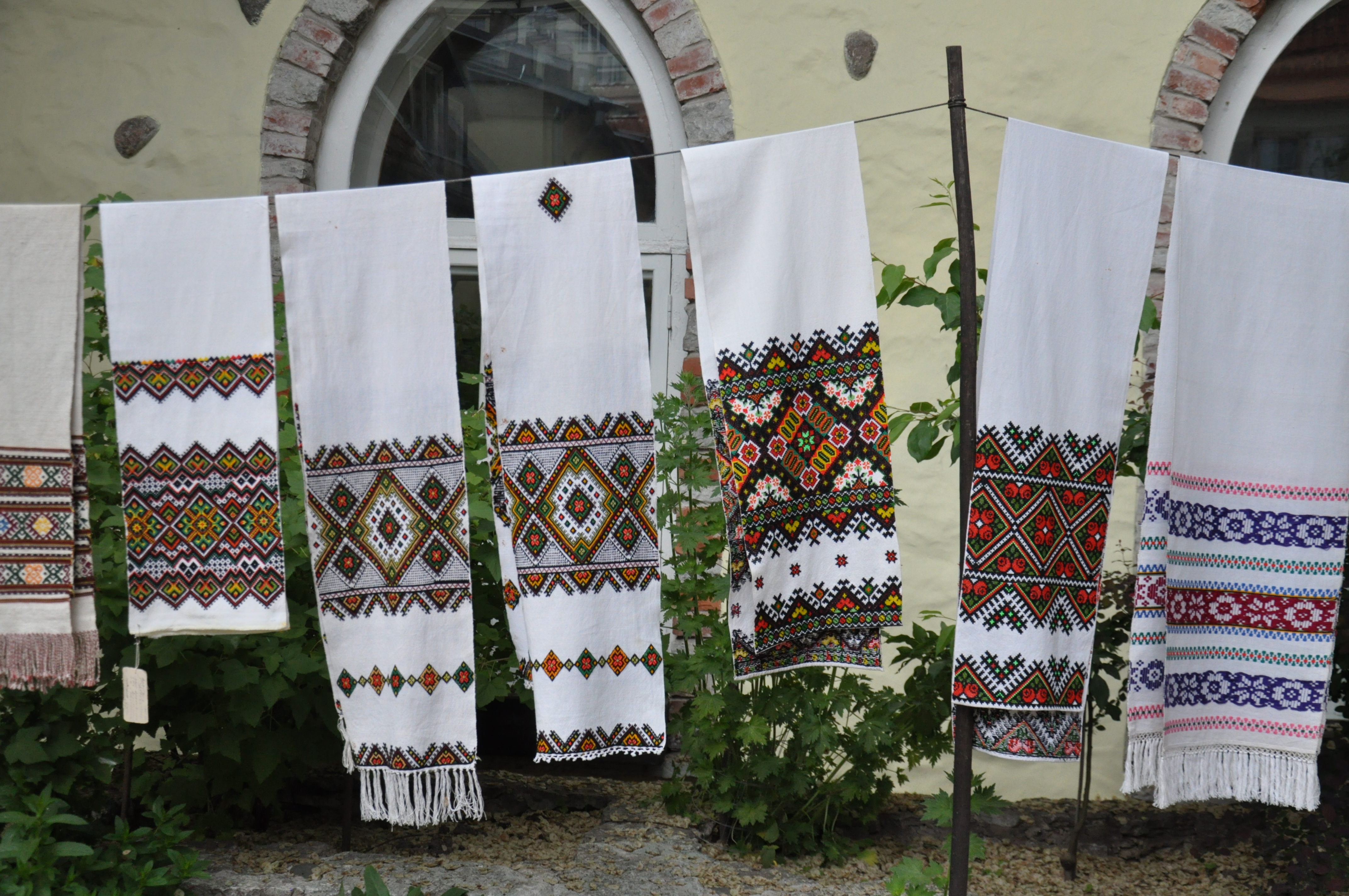 Our Ukrainian Cultural Festival: The Bird of Happiness
Every year, the Ukrainian Cultural Center organizes a festival to celebrate Ukrainian culture in Estonia. Our past sponsors have included both the City of Tallinn and the Integration Foundation. As a part of our festival, our visitors can learn about the wealth of our ethnographic collections, enjoy live concerts of Ukrainian music, and even join in our hands-on toy-making and papermaking workshops. If they like, visitors can also try their hand at calligraphy or decorating traditional Ukrainian Easter eggs. We would like to thank our partners at the Congress of Ukrainians of Estonia for their help in organizing our festival. If you would like to join us as a sponsor or partner – or simply take part in our festival, please don't hesitate to let us know!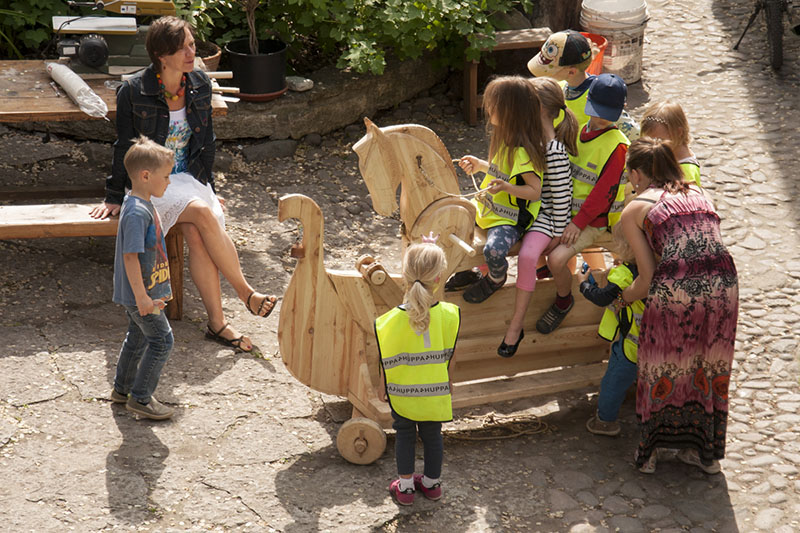 Our Togetherness Project "Koos"
Tallinn is home to many different nationalities. Unfortunately, the contact between these different ethnic groups can be minimal. While language barriers remain, cultural perceptions also play an important role. As a result, we tend to emphasize that which makes us different from one another rather than that which makes us similar.
Our goal for this project was to break down the various barriers we seem to build around ourselves and transform our stereotypical perceptions of one another into something more positive. We did this by bringing together members of Tallinn's different communities for some creative collaboration. And so, over the course of several months, hundreds of people – most of them children with their parents – gathered together at the Ukrainian Cultural Center to learn how to make something with their hands.
While some of our project participants learned to cook, others learned how to make toys out of wood or felt while still others learned how to paint Easter eggs. By working together in these various workshops and learning how to use their hands to collaborate, we helped Tallinn's different communities see each other not as the "other" but as part of one larger creative community. After all, learning how to make things together – explaining our particular customs and traditions along the way – makes it possible for all of us to understand that we all can be different and yet still be a part of a single society. We would like to thank the European Fund for the Integration of Third Country Nationals, the Estonian Ministry of Culture, and the Estonian Integration Foundation for making our "working hands dialogue" possible!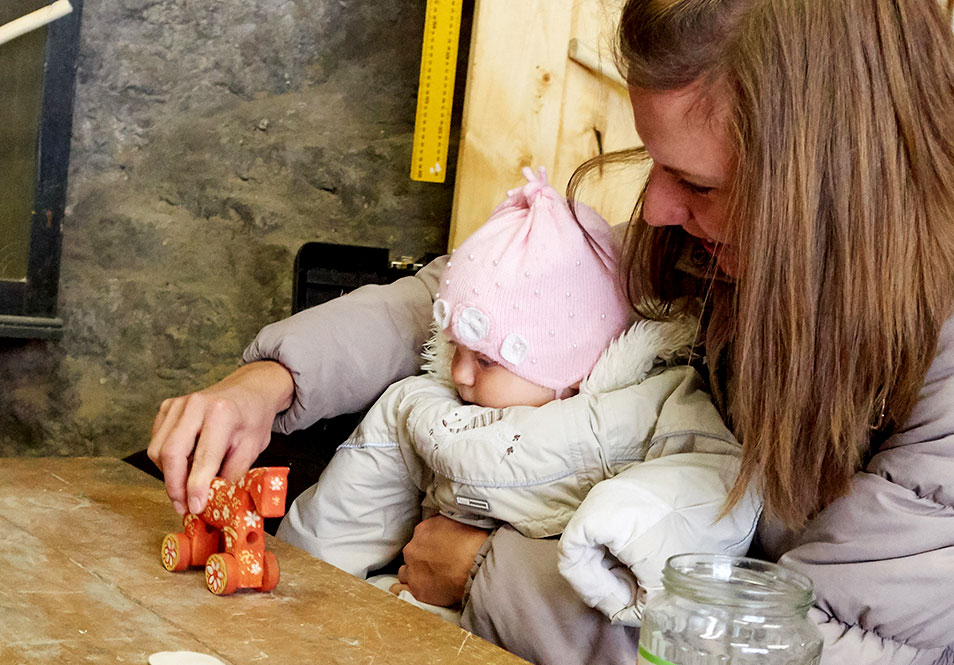 Our Integration Project "Lõimumine"
Everyone has a story to tell. And some of these stories they have to tell are the stories of their integration into Estonian society – especially if their families can trace their roots back to Ukraine or Russia. For those Estonians who have been here for generations, they also have stories to tell – stories of how their life changed with the integration of new arrivals.
Over the course of fifteen months, we worked with different people living all across the country representing Estonia's three main ethnic groups thanks to the generous support of the European Fund for the Integration for Third Country Nationals, the Estonian Ministry of Culture, and the Estonian Integration Foundation. Together with our media sponsors Radio 4, we held workshop events across Tallinn where our partners included the National Library of Estonia, the Tallinn Central Library, the Russian Theater, and two Apollo Bookstores. From Tallinn, we then we travelled across the country to hold even more sessions at the Tartu Toy Museum, the Narva Castle, the Põlva Cultural Center, the Jõhvi Cultural Center, and the Jõhvi Kindergarten.
So, what did we do? First, through a series of calligraphy workshops, we got parents and their children to share their thoughts and stories about integration and then write them down. Next, after showing them examples of various Estonian, Ukrainian, and Russian handmade toys, we encouraged our workshop participants to build their own toys to help them tell the story of integration. How? Well, we left that up to them.
Fortunately, we found that bringing people together from different cultural backgrounds works well when we they have something to do with their hands. And thanks to the friendly environment generated by our workshops, we found that people started working together without being told to do so – thereby starting off on the path to intercultural tolerance. Along the way, we gathered up samples of the best toys that our workshop participants made, added them to our existing collection of wooden toys, and then held a "Wooden Toy Fair" everywhere we went celebrating the best of Estonian, Ukrainian, and Russian toys and showing off their many similarities.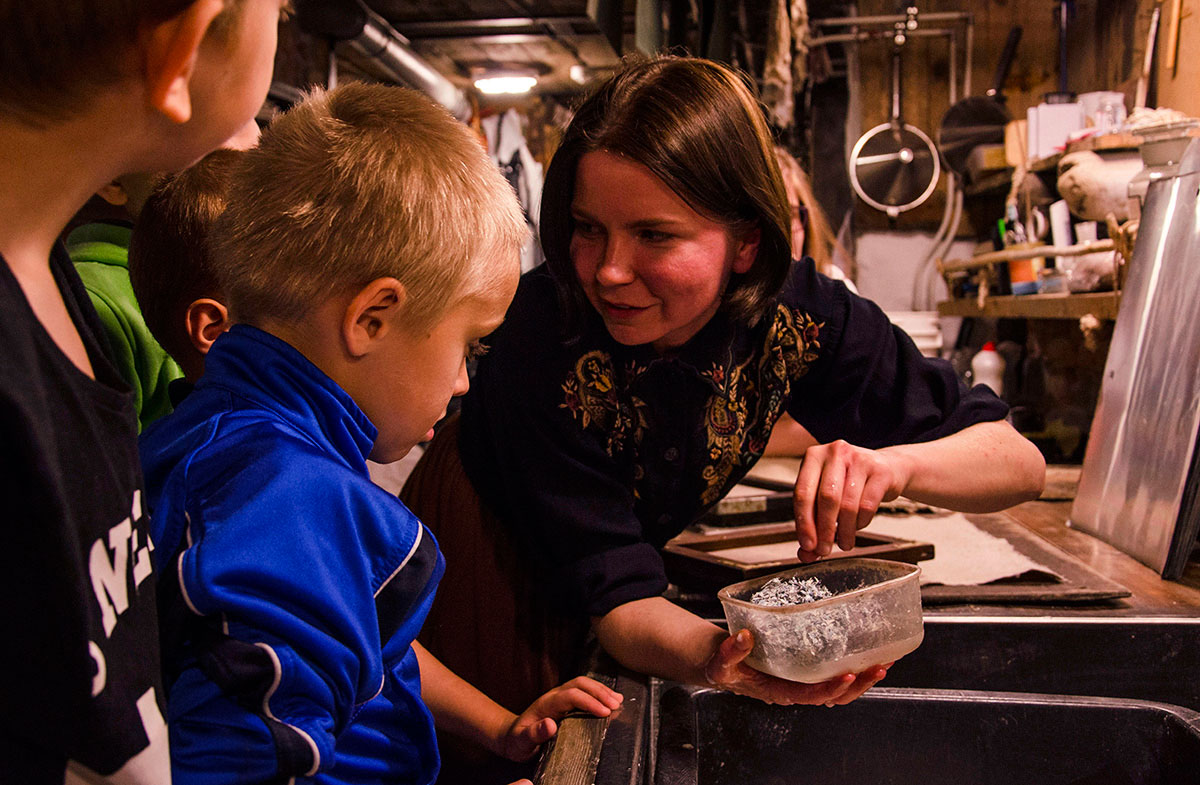 Our Homeland Project "Meie Kodumaa"
The local Estonian Chapter of the Ukrainian National Scout Organization "Plast" was the driving force of behind our three-part project known as Our Homeland. Reaching out to young people aged from 7 to 27 who spoke Ukrainian, Russian, Polish, Tatar, German, or any other language at home besides Estonian, our goal was to deepen our participants appreciation and knowledge of Estonian society. To do this, we partnered together with various schools including: the Russian Haabersti Gymnasium, the Old Town College of Education, the Rocca Al Mare School, the Kalamaja Elementary School, the Laagna Secondary School, the Nõo Gymnasium, the Viimsi School, the Kadriorg School, the German Gymnasium, and the Kurtna School. The support of the Estonian Ministry of Education & Research and the Estonian Integration Foundation made all of this possible.
By providing young people of different nationalities with the opportunity to collaborate with each other, we helped to promote tolerance within this multicultural collective while explaining the meaning and importance of being an Estonian citizen. We started off by first teaching the young people how to work together to make handmade paper in our paper mill. Once the paper was dry, we took them into our scriptorium where we introduced them to the basics of calligraphy. The purpose of all this was to get each participant to write a letter containing their suggestions on how to make Estonia an even better country to live in. At the final stage of the project, we bound their letters together into a book to share with others. This collection of suggestions would make interesting for reading for anyone in Estonia today as it provides a window into what our young people are thinking.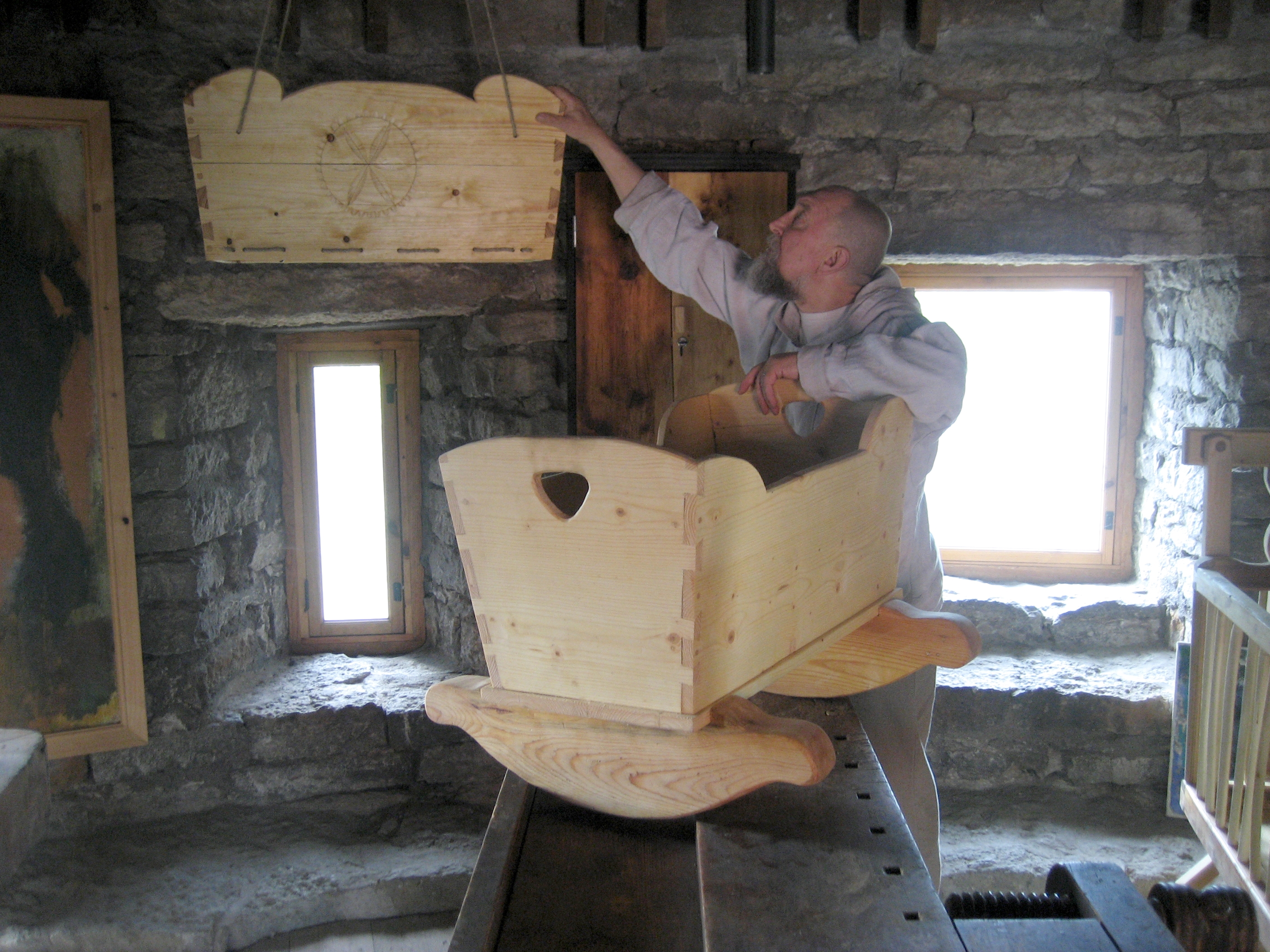 Our European Cradle Project "Häll"
We are all born alike. We are all born helpless. We all need the love of our parents to survive. And during our first couple of years, the cradle becomes the focal point of our existence – a place where we spend most of our hours sleeping, growing, and developing.
With the help of the European Fund for the Integration of Third Country Nationals, the Estonian Ministry of Culture, and the Estonian Integration Foundation, we gathered together people – many of them soon-to-be parents – from several different nationalities to give them a chance to build their own cradle. To help guide them, we displayed our collection of handmade cradles from Estonia, Ukraine, Russia, Poland, and Finland.
During the workshops, participants also got a chance to weave together baby blankets and attend seminars about how children are raised in different European cultures from both an ethnographic and a psychological perspective. But perhaps the best part of each day were our evenings together after a long day of work sharing our different lullabies and cradle songs. As cradles are something so near and dear to everyone's heart, our cradle workshops were a real hit and received substantial media coverage.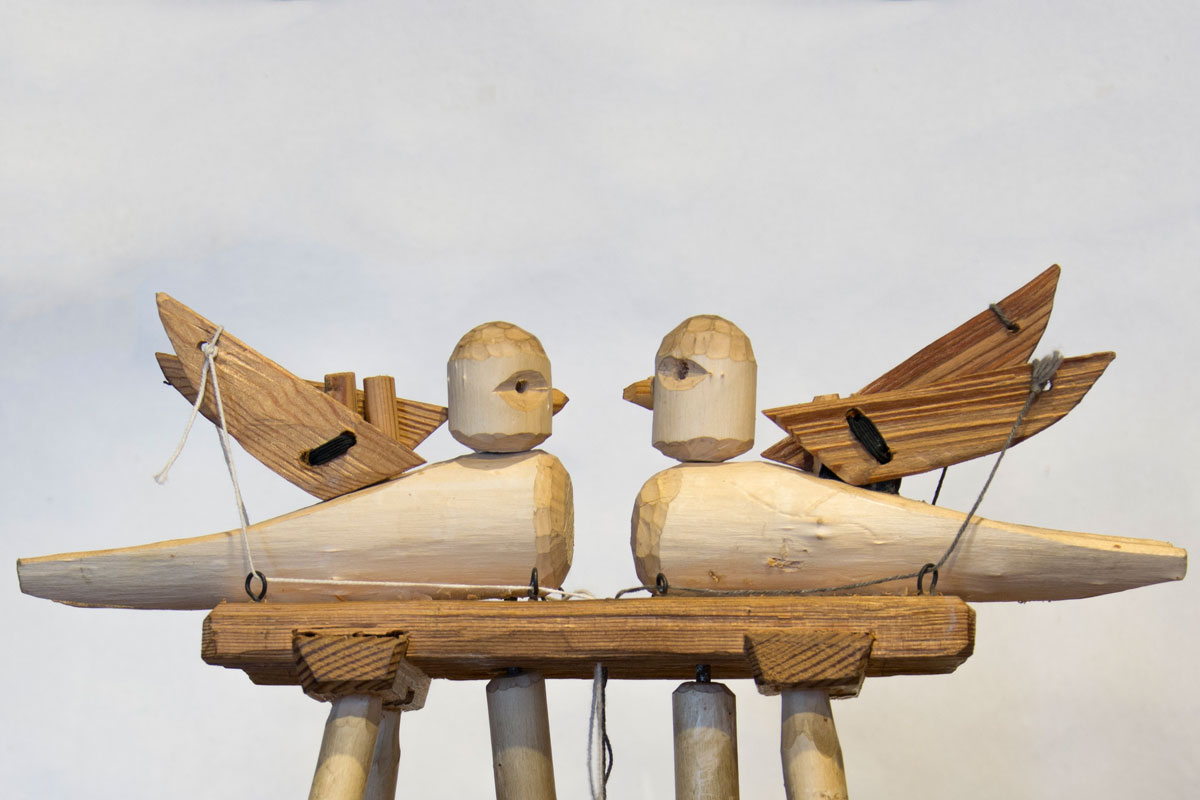 Our Estonian Folk Toys Project "Eesti Lelud"
What kid doesn't like playing with toys? And has there ever been something more exciting than holding a new toy in your hands? So, what could possibly be better than to learn how to make your own toys? If you were to hold such power in your own hands, you would never run out of new toys!
And so, the goal our Estonian Folk Toys Project was to bring together young people from different ethnic, linguistic, cultural, and social backgrounds to make old-fashioned Estonian handmade toys. Hearing about the history of these different toys as they learned how to make them, our young workshop participants were able to expand their knowledge and understanding of Estonia and its culture. Whatever language they might speak at home, it is vital that our young people learn how to collaborate in a multicultural environment to insure a strong future for our country.
Under the guidance of professional craft masters, our young workshop participants learned how to make traditional Estonian toys out of wood, fabric, and other materials. They also got a chance to see similar toys produced by different neighboring cultures. Our series of workshops culminated with an exhibition of all the different toys we made at Grusbeke Tower.
Our toy-making workshops would not have been possible without the generous support of the European Fund for the Integration of Third Country Nationals, the Estonian Ministry of Culture, and the Estonian Integration Foundation.