In order to preserve both the tradition of the medieval museum and the disappearing handicrafts and cultures, the Ukrainian Cultural Center has established an ethnographic museum, which includes several excellent traditional collections of Ukrainian folk costumes, as well as several collections of handicrafts and other artifacts. Many of the items are gifts from residents of Estonia, Ukraine, Russia and the United States who have been interested in the activities of our centre. We welcome new donations to help us improve our existing collection.
Our museum has an impressive collection of traditional Ukrainian võšõvankõ (embroidered shirts), rušnõkõ (embroidered towels), põsankõ (Easter eggs) and toys. We also have smaller collections of traditional Ukrainian jewelry and collections of historically used banknotes. The collection also includes tapestries and appliqués by Nina Võnnõki and watercolors by Olena Zaporožetsi.
We have organised exhibitions of our collections, from Carpathian-Ukrainian to Eastern Ukrainian traditional costumes. In addition, we have also held exhibitions of Ukrainian national handmade toys together with examples of Estonian and Russian toys. If you are interested in the above work, let us know your willingness to keep such events going.
Unfortunately, our museum is currently closed to the public for reasons beyond our control.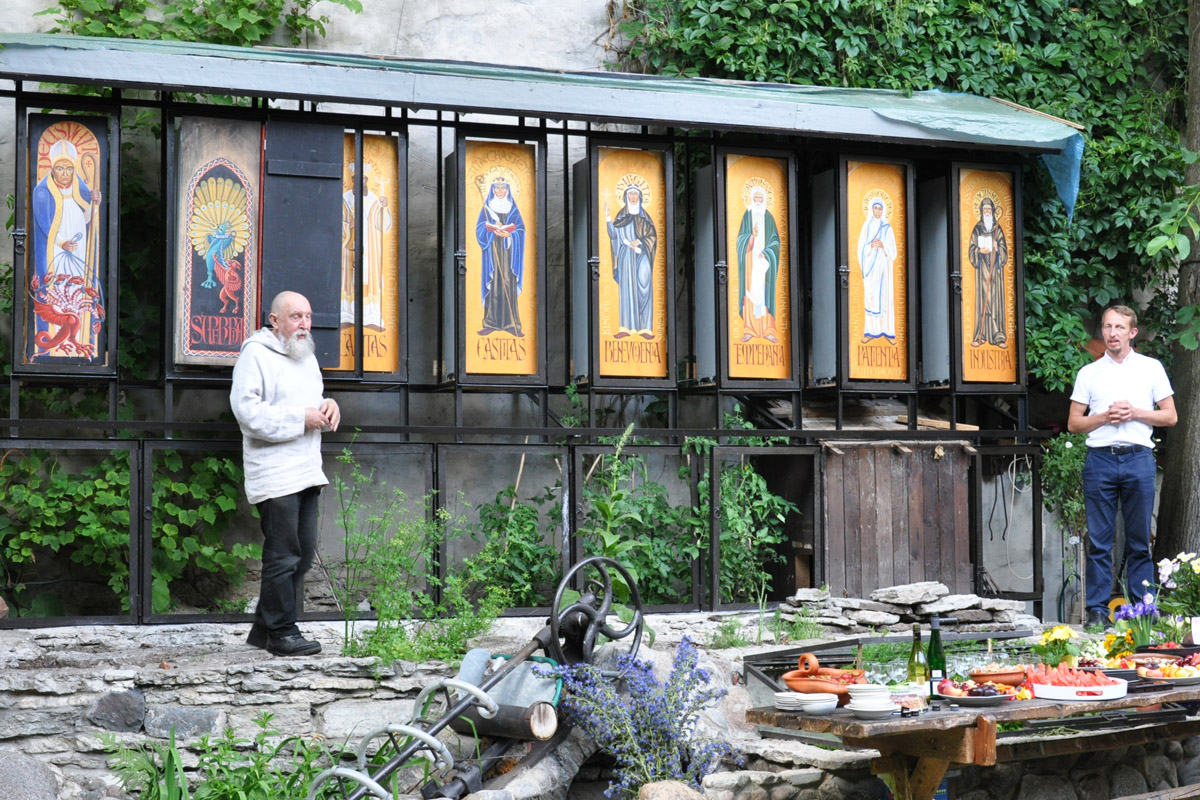 St. Hildegard's Courtyard
While it may be true that St. Hildegard of Bingen never made her way to this town which would one day be known in Latin as Revalia, we like to think that she would have loved the medieval courtyard that we have named in her honor. For those of us who work at the Ukrainian Cultural Center, Hildegard's Courtyard is our fair-weather oasis within our Sanctuarium – complete with a pond filled with flowing water and golden fish. For those of you who visit us, Hildegard's Courtyard is often your first impression of the Center. We hope it makes a good one as we all know just how much first impressions matter.
One of Anatoli Ljutjuk's current projects – the Mechanical Morality Theater – dominates Hildegard's Courtyard. But do take your time and look around if the weather is nice. You will find plenty more to see here: from Hildegard's Herb Garden maintained by the local Hildegard Society to our own small vegetable garden whose harvest ends up in our communal lunch; from a stone shrine to a circle of monastery bells which has just about circumnavigated the world; from a devoted dog to a cautious cat. During the long summer days, Hildegard's Courtyard is so peaceful that it attracts dozens of different species of birds and insects seeking both sustenance and rest among her rocks, plants, and trees. And if you look around with great care, you might even spot a reflection of St. Hildegard herself.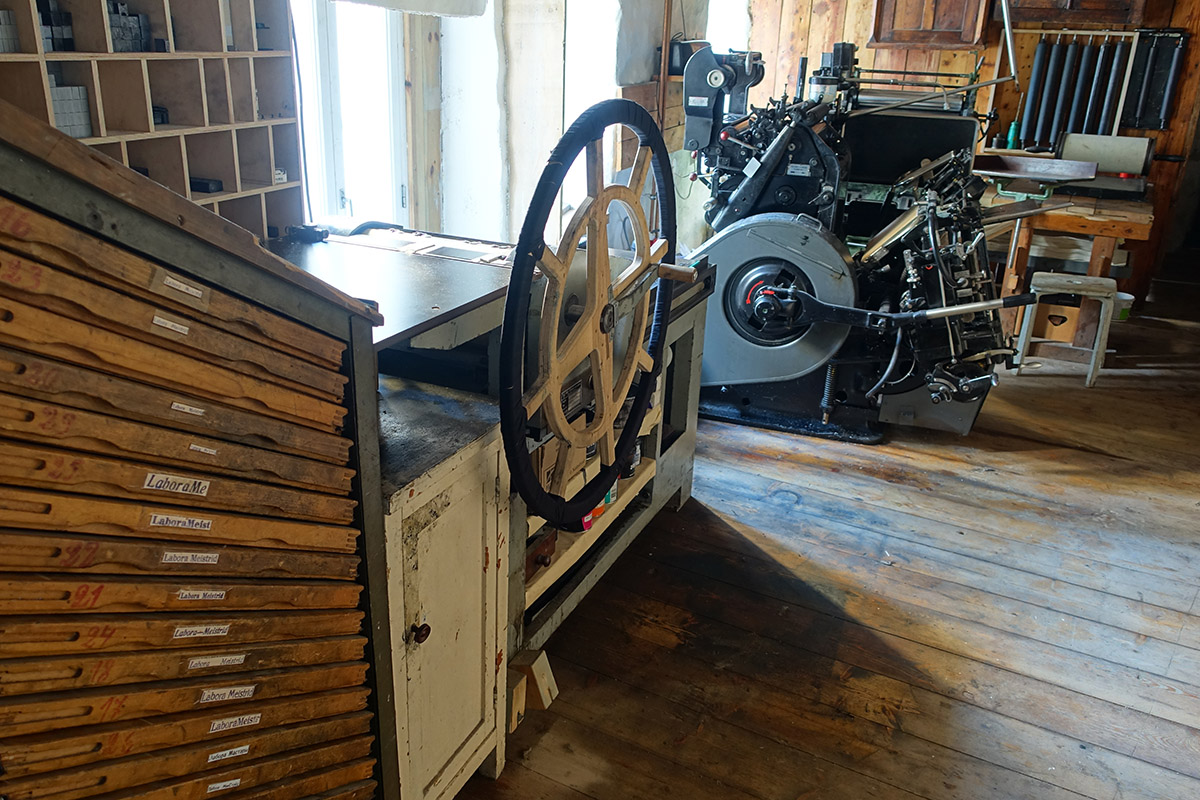 Our Labora Workshops
Located within the Ukrainian Cultural Center at number 22 Laboratooriumi Street, you will find our Labora Worskhops which include a variety of different studios for paper making, calligraphy, letterpress printing, and more. In these workshops, Labora's Masters use their hands to create beautiful books – each one with its own unique story to tell. Labora also makes postcards, greeting cards, and a variety of other paper products to inspire people around the world to keep in touch and connect in thoughtful, personal, and meaningful ways. By combining illustrations with calligraphy and typography, Labora hopes to add some beauty to the world.
Learn more about Labora on their website.
Watch Art-Life's six-minute video about Labora's Masters at work. (In Estonian with English-language subtitles.)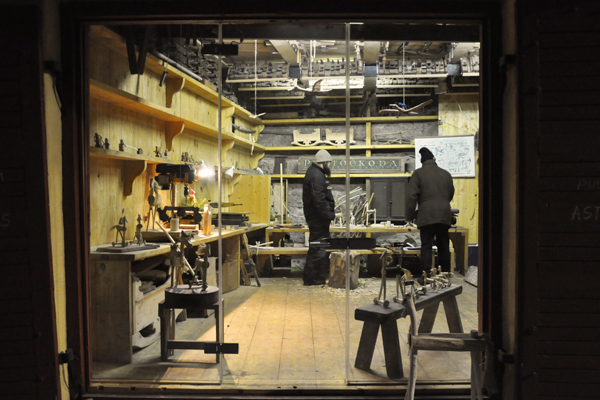 Our Smithy
Our Smithy, located just down Laboratooriumi from us at number 25, is currently being redeveloped. We hope to re-open it to the public this summer. Stay tuned to find out what exciting new things will be happening here including new workshops as well as other new possibilities provided by our new Ukrainian brick oven. Thanks!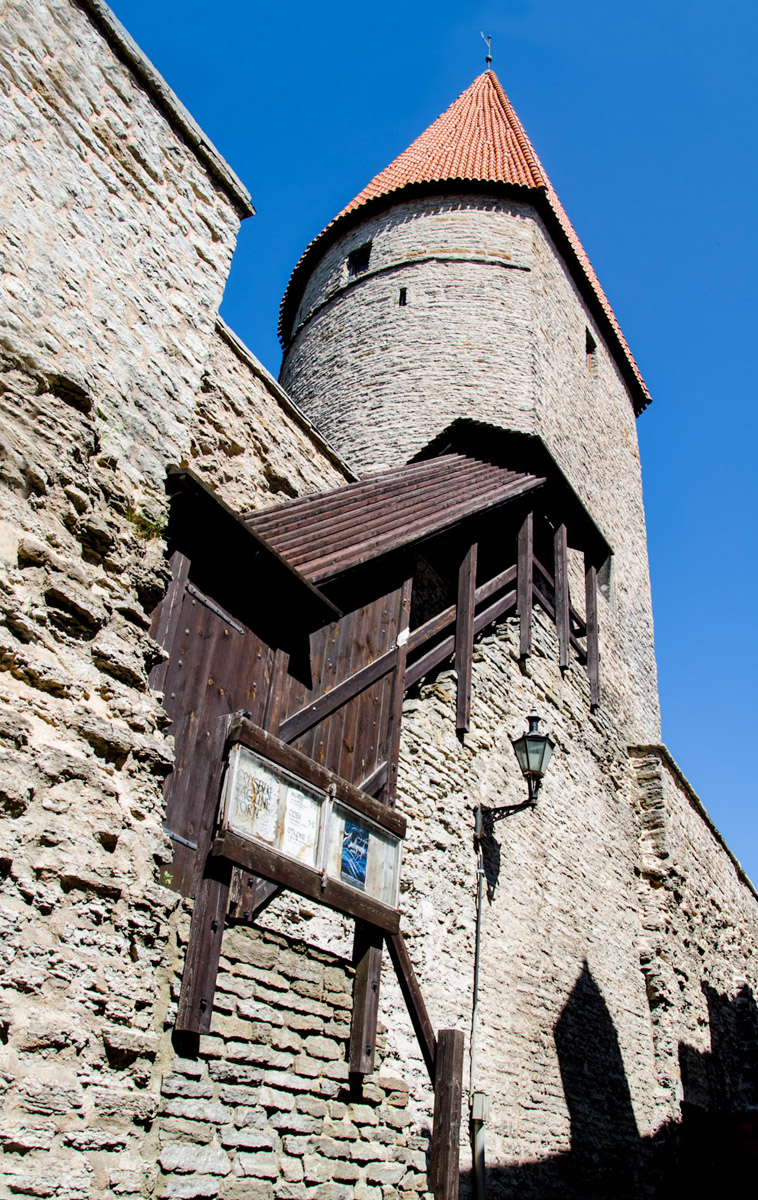 Our Tower
Our Tower, properly known as Grusbeke-tagune torn, is home to several different worlds. You will find them all just down the street from us — in the opposite direction from our Smithy — at Laboratoorium 33.
Our Tower's ground floor is home to our seasonal exhibit gallery. Don't forget to check our latest News items to learn more about our current exhibits.
Our Tower's central floor will soon be the new home of our Museum of the Wooden Horse. We hope this museum will re-open to the public in August. Stay tuned!
On our Tower's uppermost floor, you will find echoes of Tallinn's Ark of Endangered Species. It always seems to be in a perpetual state of reconstruction.
Please note that Grusbeke-tagune torn is usually only open on Saturdays and Sundays from 11 AM to 12 PM or by special appointment. Please call us at +372 5650 2572 if you would like to take a look inside.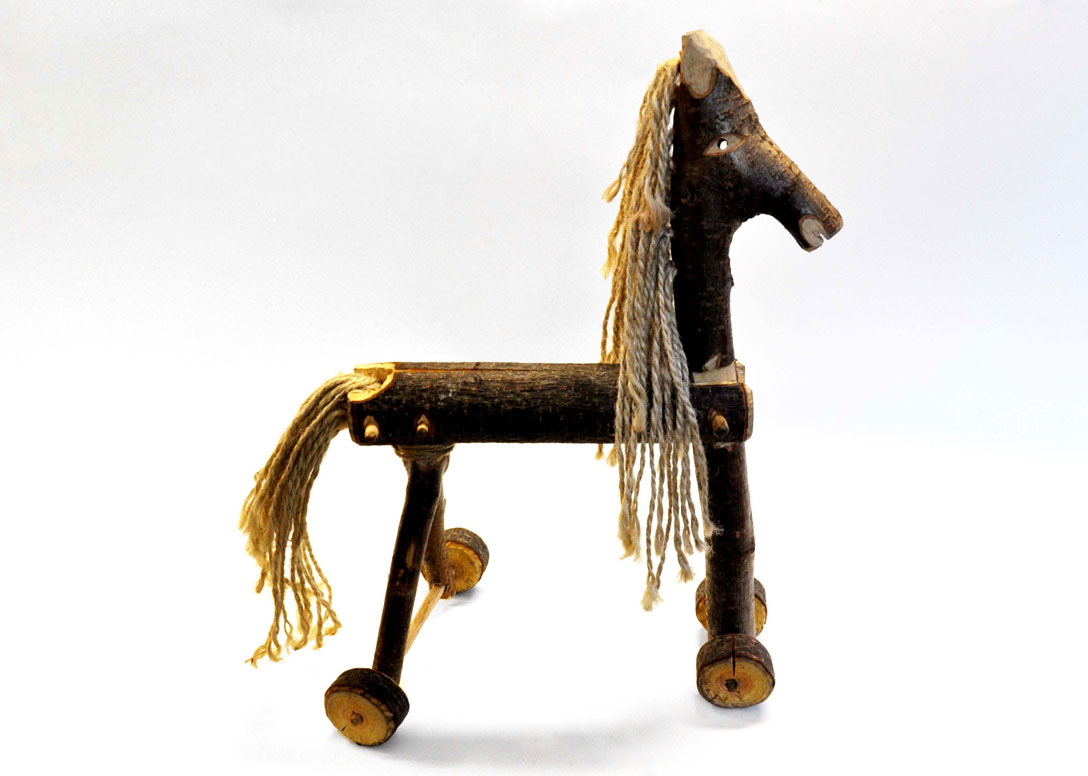 Our Collection of Wooden Toy Horses

No one quite remembers how the first wooden horse found its way to the Ukrainian Cultural Center. Perhaps Anatoli himself made it from various branches of wood. In any case, a second horse and then a third one soon followed. After that, our friends got it into their heads that the Center was working on something new and so people from all over this part of the world started bringing us horses until we had a large wooden herd. And then there was that crazy itinerant wooden horse collector who gave our Center his entire collection – or at least most of it.
What then should we do with all these wooden horses? Yes, the wooden horses turned out be just the thing that our Center needed when we were running our integration projects – especially those built around the making of wooden toys. And yet, most of the wooden horses still sat around in boxes or gathered dust on shelves. Everything changed one day when a Wooden Horse Whisperer visited the Center and decided to tame this wild herd and bring some order to this wooden chaos. You can see her impressive results here at The Wooden Horse: A Virtual Museum.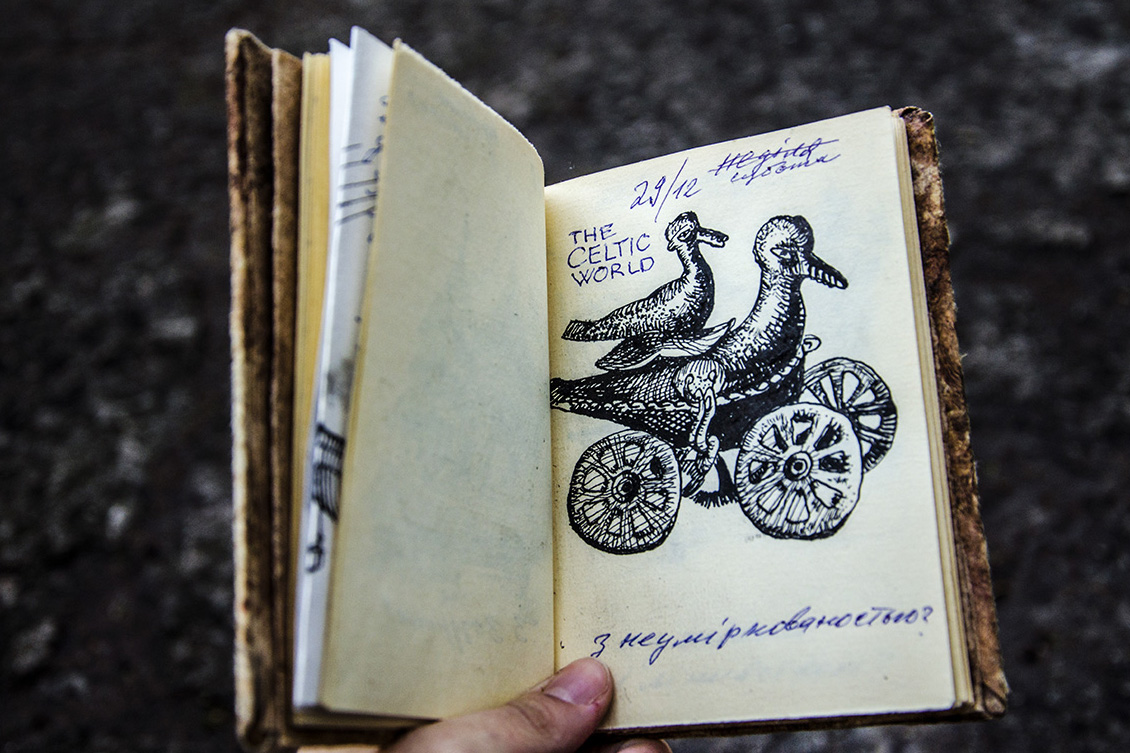 Our Library
The Ukrainian Cultural Center is home to the largest private collection of Ukrainian-language books in Estonia. Our library consists of approximately 3,000 books in Ukrainian, Estonian, and Russian. While most of our collection consists of classical and contemporary Ukrainian fiction and poetry, we also have many books about the ethnography, history, nature, and art of Ukraine as well as that of other countries.
Most of our books are donations from Ukrainians living in Estonia – especially from the well-known Estonian poet and translator Harald Rajamets, who generously left us his library when he passed. The Estonian Integration Foundation also helped us acquire many of our books. We are always grateful for new donations to help us improve our library collection. Please contact our library director, Estonian and Ukrainian philologist Ellen Dovgan, with any questions you might have.
Sadly, due to circumstance beyond our control, our library is currently closed to the public.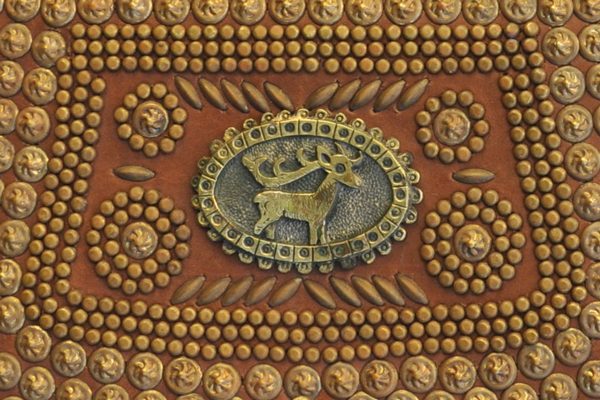 Our Artefacts
To help preserve disappearing crafts and cultures, the Ukrainian Cultural Center created a museum, which includes an amazing variety of traditional Ukrainian folk costumes, crafts, and artifacts. Many of these items are gifts from individuals living in various countries including Estonia, Ukraine, Russia, and the United States. We gladly accept new donations which would help us improve our existing collections.
Our museum has impressive collections of traditional Ukrainian vyshyvanky (embroidered shirts), ruchnyky (embroidered towels), pysanky (Easter eggs), and igrashky (toys). We also have other smaller collections of everything from traditional Ukrainian jewelry to historic Ukrainian bank notes. Our special collections include a series of tapestries and applique books by Nina Võnnõk as well as various watercolors by Olena Zaporozets.
In the past, our staff has organized a variety of different exhibits drawing from our collections. These exhibits have showcased everything from Carpatho-Ukrainian National Dress to Eastern Ukrainian Folk Costumes. We have also displayed our Ukrainian handmade toys alongside similar examples from Estonia and Russia. We invite specialists as well as other interested parties to help us organize future exhibits.
Sadly, dues to circumstances beyond our control, our museum is currently closed to the public.